Photo: File
ISLAMABAD (Shakeel Tanoli): 1000 Schengen visa stickers have been stolen from the visa section of the Italian High Commission in Islamabad.
According to sources, this is the unique theft of its kind and the biggest theft of visa stickers from any embassy in the world.
The Shenzhen visa stickers were kept in the visa lockers of the Italian embassy which were stolen, Italian High Commissioner Andreas Ferrarese wrote a letter to the Pakistan Foreign Office and the Federal Investigation Agency to investigate.
According to sources, 750 stolen Shenzhen visa stickers serial numbers ITA041913251 to ITA041914000 while serial numbers of 250 visa stickers ITA041915751 to ITA041916000 have been reported.
The Italian High Commission has called on the Federal Bureau of Investigation and the Foreign Office to arrest those traveling on passports bearing these serial numbers at all airports across the country.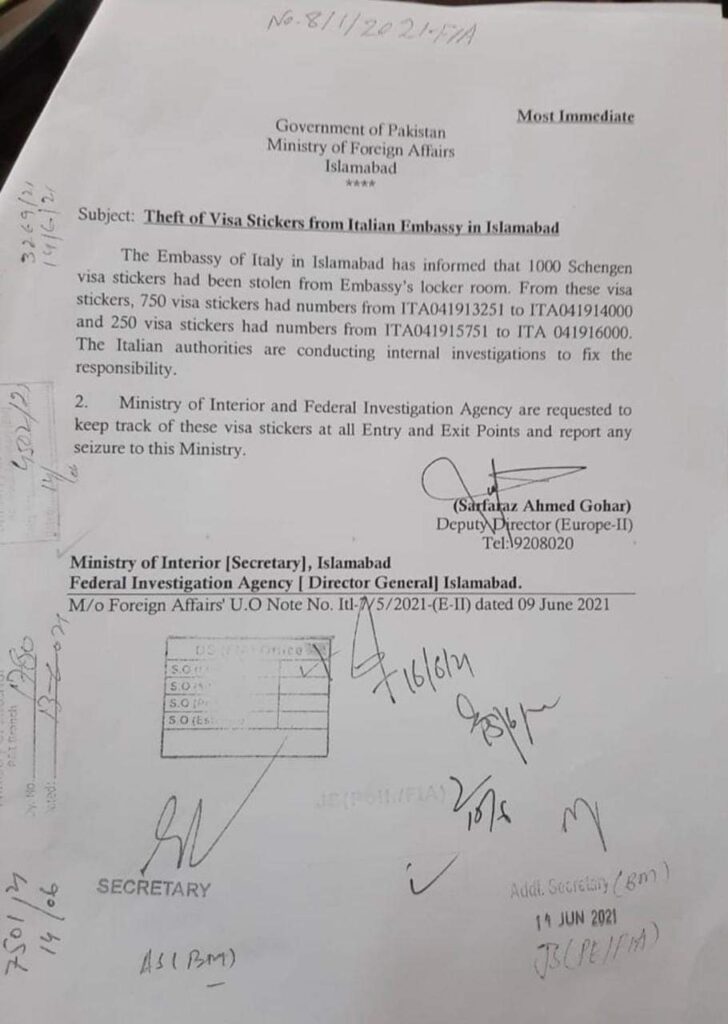 The letter also said that the embassy should be informed about the arrests so that those traveling on illegal visas could be prosecuted.
Shenzhen visas allow entry into more than 20 European countries, visa agents sell Shenzhen visas for 12 to 15 million, formal checks at domestic airports make arrests possible.
It should be noted that some people who are tired of unemployment in the country go to European countries on fake visas to get employment for a better future, to which the visa mafia sends millions of rupees abroad.